If you're a small business looking to start selling your products online but don't know where to start, online marketplaces may be the solution you're looking for. Below we cover what an online marketplace is, the benefits of selling on these platforms, and some of the best online marketplaces for small businesses to start selling stuff online. 
What is an Online Marketplace? 
An online marketplace is an e-commerce website that allows business owners to host and sell their products online. These can range from larger scale marketplaces, like Amazon and eBay, to smaller scale marketplaces best suited for small businesses, like Etsy and Poshmark. 
Essentially, these sites make it easy for businesses to sell their products online without creating their own storefront from scratch. However, these marketplaces do charge their outstanding fees. 
The Benefits of Selling on Online Marketplaces 
If you're new to selling products online, an online marketplace may be the best place to start and get your feet wet. Here are just a few of the benefits of selling on online marketplaces. 
You can get started quickly. 
If you don't want to go through the hassle of building your website, online marketplaces make it easy to start quickly. You can set up a storefront in no time and don't have to worry about payment processing, as it's all done within most platforms. 
You can sell your products on multiple marketplaces
You can sell on multiple sites if you want to try out different marketplaces. This can help you reach different a wider audience. 
Can get your products in front of a larger customer base 
If you're selling on larger marketplaces, like Amazon, this allows you to reach a larger audience—which can even be on a global scale. The more people you can reach, the more sales and revenue you can make. 
No marketing necessary 
You don't always have to put much effort into a marketing strategy with online marketplaces. Most online marketplaces are similar to search engines, so optimizing your storefront with keywords your target customers are searching for will make it easier for your products to get seen and sold. 
No site maintenance is required. 
The best part about online marketplaces is that you don't have to keep up with site maintenance, which can often experience technical difficulties and require a lot of extra time. 
Best Online Marketplaces to Sell Things Online 
Now that you know the benefits of online marketplaces, here a some of the many online marketplace options for selling stuff online. It's important to note that many of these sites charge seller fees, so ensure you're comfortable with the terms before committing. 
Etsy

Amazon

Walmart Marketplace

Craigslist 

OfferUp

Mercari

Poshmark 

Decluttr

Society 6 

Handshake 

Facebook Marketplace 

Ruby Lane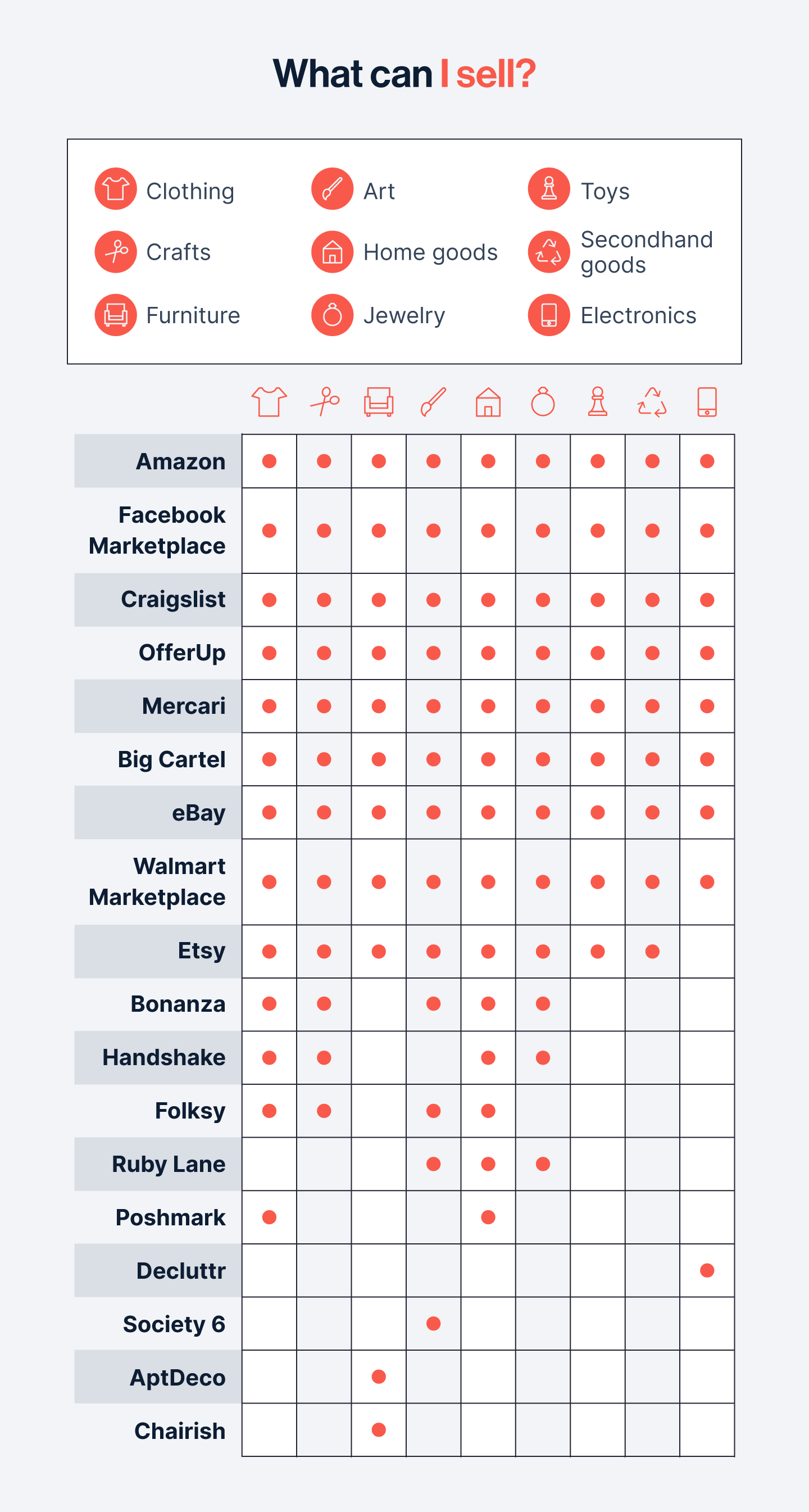 I was wondering what you can sell on each platform. Check out the infographic below from Solo Global for more information. Happy selling! 
How Small Businesses Can Utilize Online Marketplaces to Sell their Products Online