B2B is a significant force in the modern e-commerce stream. As for B2C eCommerce, effective web design would also be crucial for success here. However, the challenges may vary because the target audience for these websites is businesses, not individual customers.
Given the volume of sales on the B2B eCommerce websites, the user experience is paramount. A responsive & efficient user experience design works to create positives about the B2B platform. Without effective design, holding the audience or matching the search engine requirements would be difficult.
Specific Challenges for the B2B industry 
Good B2B web design needs to work around the character of the business and create the required user experience in sync with the specifics of this industry. The B2B industry presents some challenges that define what the UX design will be like. 

The user segment comprises experts with sound knowledge, clarity on the problem, and a desire for comfort & efficiency. The sellers must remember that they are creating a long-term customer base. Purchases are made professionally – some customers are experts, and others are new entrants. The B2B eCommerce user experience design has to cater to users who are more purpose-driven, interested in problem-solving, and have less time for impulsive decisions.
There is a complexity involved in the B2B buyer's decision-making. Typically, the buyers will research for a significant part, discuss it within the buyer group segment, and then zero in on a product. Impulse decisions don't work here. 
The buying journey is arduous, and creating a user experience design that adheres to the workflow requirements is challenging. Gartner elucidates well how a B2B buyer must complete a set of jobs to complete a purchase – "problem identification, solution exploration, requirements building, supplier selection, validation, and consensus creation."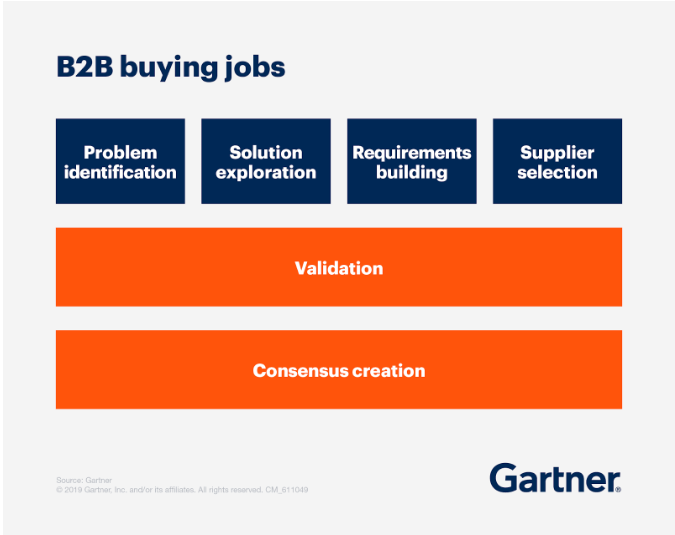 Source – Gartner
The product offers in the B2B segment are more complicated than in the B2C area; hence, the B2B eCommerce user experience will also revolve around these intricacies. 
Products here must be listed per multiple features, extensions, and add-ons. Users have to check the model, configurations, and cost-effectiveness. Catalogs might have to be customized to provide different products to different people. 
Moreover, the B2B networking happens differently, and pricing must align with the requirements of different decision-makers categories, like those mentioned in contracts, buyer company catalogs, sales team lists, etc. 
The processes of B2B eCommerce are interesting and unique. Automation is required, yet many people are involved in decision-making. From the B2B eCommerce user experience perspective, the design must keep things automated while providing human intervention.  
B2B eCommerce user experience must create flows that don't exist in B2C. Design in the B2B segment has to make provision for buyers to ask for quotes of different quantities and manage multiple orders. It has to imbibe changes in existing orders and involve other team members to complete orders. Customization rules are high. 
Ideas for  B2B user experience design
B2B UX calls for thorough research on the buyer thought process, expectations of different levels of working teams, the communication points, finalization of actual buying, possible anxiety points for the buyers, and the post-sale service offered. 
We live in a world of disruptions, and approaches that might have been the core of all strategies will no longer solve issues in organizational functioning. Workflow affects design decisions too. Multi-department integration & collaboration will create the best processes in business, and when designers work within collaborative teams good B2B eCommerce user experience is bound to happen.
Features to be incorporated:
Buyers in the B2B segment do not want excessive navigation and look for convenient shortcuts. 
The relevance of easy navigation is often ignored; unfortunately, developers make B2B eCommerce websites too complex. Navigation is a detail that should be on priority in the B2B eCommerce user experience so that there is a negligible bounce rate. So,
List the buyer's intention clearly for the design team

Create a Menu and sub-categories

Provide clear on-site search facilities

List the flow clearly 

Keep the search language simple

Clarify where customization is possible

Enhance the shopping cart experience

List the shipping methods clearly

Make provisions for reviewing orders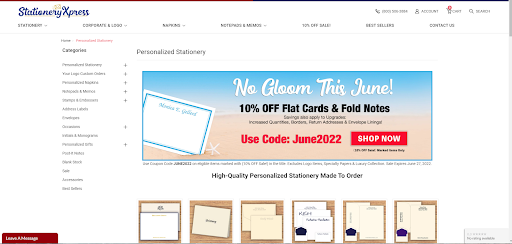 Source: StationaryXpress
Clear & compelling product display
The B2B user is purpose-driven, interested in problem-solving, has a clear intent, and has less time for impulsive decisions or casual browsing, which means a par excellence B2B eCommerce user experience should have:
Clear product filters

Good descriptions of product features & technicalities

Clarity on product promotions, if you're doing these

Apt focus on where you want automated product suggestions

Highlighted display of the leading products

Visible value propositions 

Effective & meaningful product images 
A highly aware B2B audience has neither the patience nor the time to get caught in complicated checkouts. They expect both the flow and the checkout to be very smooth. Ensure:
Access to the shopping cart can be from anywhere

Minimal checkout steps

Specific details for every checkout step

A clear indication of the shipping charges

Prompt display of the shopping cart content

Coordinated display of the order totals

Easy to locate & use CTA buttons
Use straightforward content for better recall value and an appealing B2B eCommerce user experience. Make sure the content is valuable, informational, and relevant. Maintain clarity both in the product descriptions and blogs, if any. Other things to be considered include:
Stay minimal in look and words

Don't have complex product descriptions

Present an all-inclusive content (geography/business level etc.)

Place relevant testimonials for credibility

Place offers & discounts prominently

Be very clear on contact details, chat windows, and question sections

Maintain branding consistency in visual design

Follow the same design & branding across social media too

Leverage videos for showcasing products & usage

Use color psychology to your advantage
Mobile-friendly B2B eCommerce user design is increasingly becoming the lifeline of a business. More and more B2B buyers rely on phone usage to browse or place orders. 
A considerable section of the B2B buyer could be the millennial segment. They want a seamless shopping experience through omnichannel eCommerce, chatbots, and augmented reality creating responsive product catalogs.
Voice searches are becoming increasingly in demand, and Voice-prompted searches are almost necessary now. Creating a mobile-friendly UX gives the B2B seller a competitive edge. 
The final sale point! 
So what's the final take on the B2B eCommerce user experience? First, analyze the segment of B2B buyers well. Do your homework on their intent, needs & specific areas of comfort, and focus on both the product & the content. Place your offers well, and build a comfortable & appealing visual display. Give them easy checkout, registration, and shopping cart experiences and top it all with a mobile-friendly experience. Then sit back and watch your leads increase, your business soar, and your brand gain added credibility! 
B2B eCommerce And User-Experience Design