Top 10 VoIP Solutions For Small Businesses To Ace Their Communication
When it comes to establishing and maintaining contact, small businesses and solopreneurs face unique challenges. Obviously, in today's business world, budgets hold a prominent place. As a result, scalable solutions are required to provide the same high-quality service to smaller businesses as to larger ones. In addition, in the last 5-10 years, the number of VoIP providers has exploded, giving you a wide range of possibilities.
There are hundreds of VoIP companies, each with its unique set of services and rates. Finding a VoIP service that is a good fit for your company can be difficult, so we researched the top 10 VoIP providers. We will cover their main features and pricing to help you choose. 
6 Main Benefits of VoIP Services For Small Businesses
Exceptional Sound Quality on Calls
To the other party or you, it is now impossible to discern whether you are using VoIP or a regular landline, thanks to technological advancements.
Multi-Functionality
VoIP is not just for making and receiving phone calls. Voice over Internet Protocol (VoIP) systems today also includes many additional messaging and conferencing options and the ability to receive voicemail and faxes digitally via email.
Secure
VoIP is safer than analog phone lines because of its digital nature. In addition, your calls and data are safe using this cutting-edge phone system since it adheres to industry-standard encryption procedures.
Automated Assistance
VoIP allows programming simple, commonly requested queries and answers to be provided to callers outside of normal business hours. The system can be pre-set to broadcast holidays, regular business hours, and other relevant information.
Recording Telephone Calls
You can record VoIP calls so that you and your coworkers can listen to them afterward and catch anything you might have missed.
Cost-Effective
VoIP has much lower operating expenses than conventional phone carriers.
10 VoIP Providers For Your Small Business
Nextiva
Nextiva's unified communications platform is suitable for enterprises of all sizes.
The Nextiva business communication service offers free and unlimited phone calls, texts, and faxes sent and received over the internet.
In addition, you could use audio conferencing, voicemail transcription, and an automated attendant.
Best VoIP Features by Nextiva
24/7/365 Availability Rate of 99.999%

Customer support is available at any time, day or night.

Free virtual voicemail, auto attendant, and toll-free service

Conference calls can be recorded, and other features are available with modern VoIP systems.

Information on past and current calls

Supports third-party app integration
Pricing of Nextiva
The pricing of Nextiva starts at 17.95$ per user per month in the Essential plan and ranges to 37.95$ per user per month in the Enterprise plan. Also, the pricing goes down as the number of users increases. 
Ring4
Ring4 is a virtual phone system that can take the role of a traditional landline and improve workplace communication by facilitating features like instant messaging, call forwarding, click-to-dial, video conferencing, and programmed processes.
Top Features of Ring4
Admin console for remote teams

With Ring4, you can get a phone number in the US, FR, UK, or CA

Call recordings

Transcripts pricing

Video conferencing

International calling and call center

Multiple integrations, including Slack, Taggg, Zendesk, Google Calendar, etc. 
Pricing of Ring4
The Ring4 costs 9.99$ per number per month for both Personal App and Business Plans. In their Annual billing system, the Business plan is charged 8$ per month per number and is billed annually as 96$.
Ring Central
RingCentral is an all-in-one solution for remote workers, as it provides cloud-hosted VoIP service, infinite video conferencing, and integrated messaging. Many of the things that other services consider optional come included with this one. In addition, RingCentral guarantees to meet or beat competitors' prices for plans with fewer than 50 users, so small businesses can confidently switch to their cloud-hosted VoIP service.
Top Features of RingCentral VoIP Provider
Feature-Rich VoIP Service RingCentral is Available in over 110 Countries

Over 250 supported app connectors, including G Suite and Salesforce

Real-time analytic processing

features a free-of-charge contact number

Improved Short Message Service for Enterprises

Voicemail-to-text
Pricing of RingCentral
The pricing of RingCentral starts at 19.99$ per user per month in the Essential plan and ranges to 49.99$ per user per month in the Ultimate plan.
Ooma VoIP Provider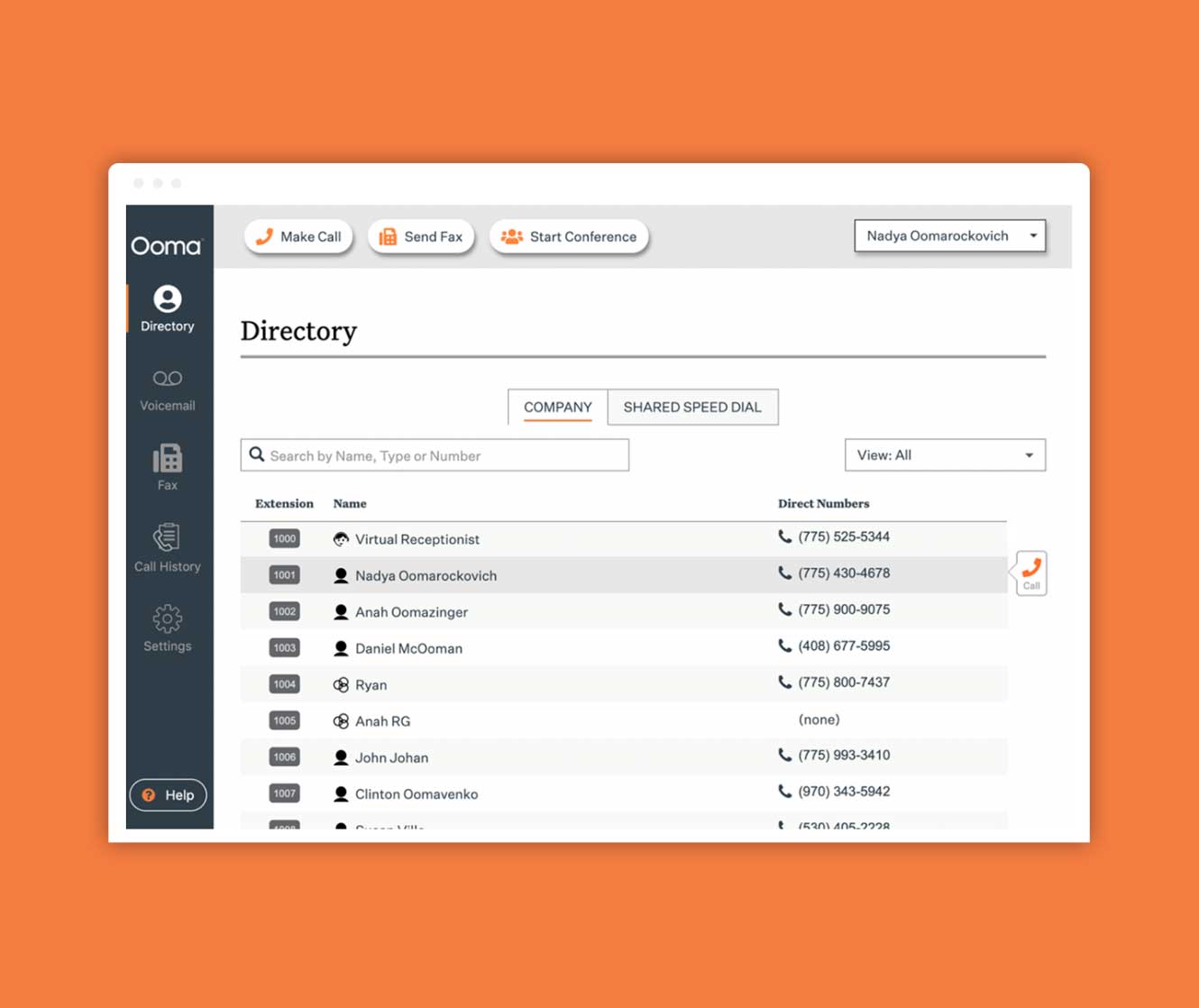 Ooma is a top pick among our recommended business phone providers for its adaptable features. With an Ooma phone system, you can use your office phone from the comfort of your home, make and take business calls on your mobile device, and even use your computer to make and receive calls.
Top Features of Ooma VoIP
Unlimited calling in the US, Canada, Mexico, and Puerto Rico

3-way calling

Call recording 

Enhanced call blocking

Voicemail transcription

CRM integration

Hot desking

Call queues
Pricing of Ooma
The pricing of Ooma starts at 19.95$ per user per month in the Ooma Office plan and ranges to 29.95$ per month in the Ooma Office Pro Plus plan.
8 x 8
8×8 is a UCaaS solution that offers cloud PBX features like unlimited calls and texts, SMS, automated call-attendant, call routing, call recording, 3-way calling, visual voicemail, and faxing. Additionally, Jitsi's Meetings-as-a-Service product allows businesses to embed meetings within their websites and intranets and use its pre-designed conference rooms.
Top Features of 8 x 8 VoIP 
All-in-one communications 

Auto attendant voice services

Background blurring

End-to-end encryption 

Schedule and send meeting invites

Customer surveys 

Easy payment processing
Pricing of 8 x 8
The pricing of 8 x 8 starts at 15$ per user per month in the 8 x 8 Express plan and ranges to 44$ per user per month in the X4 plan.
GoTo Connect
As a commercial VoIP solution, GoTo Connect also functions as a robust video conferencing platform. Compared to competitors like RingCentral and Nextiva, which only permit group sessions on their premium plans, the limitation of only 4 video attendees for the base plan is manageable. Use the customized video conferencing capabilities, such as configurable backdrops, screen sharing, drawing tools, and mouse and keyboard control, to make meetings more engaging and productive.
It also facilitates the cost-effective and time-saving process of porting an existing telephone number.
Top GoTo Connect VoIP Features
Screen sharing

Custom auto attendants

Customized call flows

It helps businesses pick the right virtual number

Number porting services
Pricing of GoTo Connect
The pricing of GoTo Connect starts at 27$ per user per month in the Basic plan and ranges to 43$ per user per month in the Premium plan.
Grasshopper
Grasshopper is a phone service that caters to the needs of freelancers and small enterprises. If you already have a personal phone, you can use it to make it into a business phone. Separating your professional and private conversations don't require any additional hardware.
Top Features of Grasshopper VoIP:
A Free Trial

There are options for both vanity toll-free and local numbers, and the present one can be transferred.

24/7 Customer Support

Desktop and mobile applications

Corporate texting

Phone call rerouting

Voicemail transcription

Reporting
Pricing of Grasshopper
The pricing of Grasshopper starts at 26$ per number and three extensions per month in the Solo plan and ranges to 80 $ per month for five numbers and unlimited extensions in the plan for Small Businesses.
Vonage
Vonage is among the most well-known PBX solutions because it was one of the first VoIP services to hit the market. And with good reason.
Phone service from Vonage is scalable, so you won't have to worry about switching providers or upgrading hardware to meet your business's changing needs. For example, if your company outgrows its present customer relationship management solutions, Vonage can be integrated with everything from Salesforce to Slack. In addition, Vonage's VoIP communication features simplify using the service at home.
Top Features of Vonage VoIP
Unlimited team messaging

Unlimited calls

Unlimited business text messages

 20 third-party integrations

24/7 customer support and IT solutions

You can sync your VoIP phone system with select accounting, inventory, and CRM software.
Pricing of Vonage
The pricing of Vomages starts at 19.9$ per user per month for the mobile apps and ranges to 39.9 $ per user per month in the Advanced plan.
Dialpad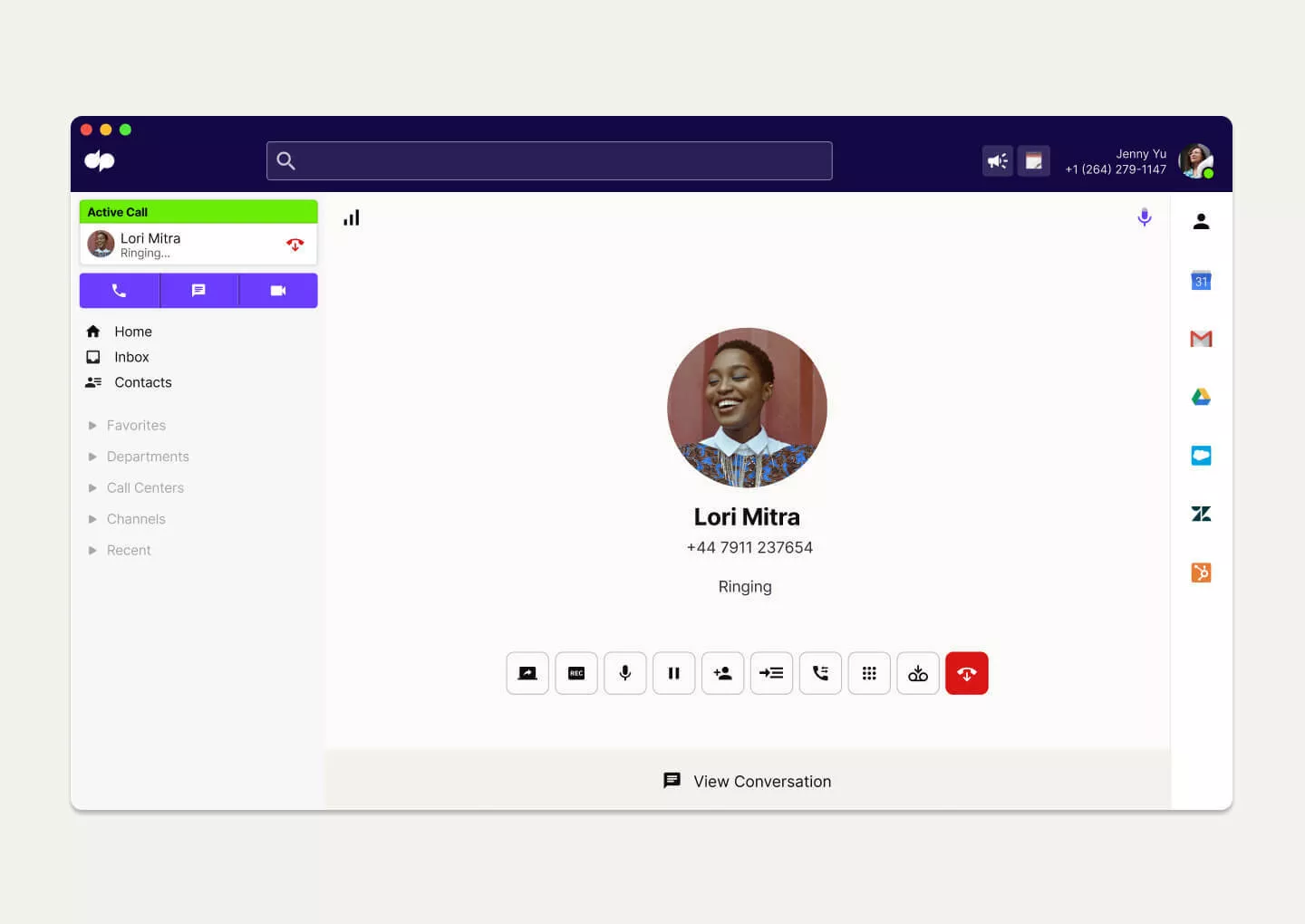 Regarding VoIP services, Dialpad is among the most advanced options for companies of all kinds. As a result, businesses of all sizes, from solo operations to multinational conglomerates, are among their satisfied clients.
Dialpad is a multi-purpose messaging app with features like video conferencing, SMS, and MMS messaging. Everything is managed in a single, streamlined interface for computers and mobile devices.
The artificial intelligence of Dialpad is one of its most interesting aspects (AI). You can have your meetings, and phone calls transcribed automatically without a dedicated notetaker.
Top Features of Dialpad VoIP
Two weeks  free trial

SLA guarantees 100% availability

Notes and call transcripts are taken by an AI assistant.

North American long-distance calls are included with this plan at no extra cost.

Connectivity with Google Drive and Office 365

Videoconferencing without limits.
Pricing of Dialpad
The standard package is 15$ per user per month. For enterprise-level package pricing, contact Dialpad.
Phone.com
Phone.com is a cheap VoIP phone solution for small businesses with metered and unmetered plans. It's one of our finest low-cost VoIP services, and it comes with a variety of plan options so customers can pick and choose what works best for them.
Businesses with a low call volume might use the Basic Users plan, which offers 500 pooled minutes and 1,000 pooled text segments for a cheap monthly fee.
Top Features of Phone.com
Voice tagging

Call handling

Live receptionist

CRM integrations

International dialing

Global numbers
Pricing of Phone.com
The pricing package starts with the Basic Users plan at $14.99 per user for 500 pooled minutes and ranges to the Pro Users Plan at $29.99 for call analytics, CRM integration, and much more. 
Bottom Line 
Whether you like it or not, VoIP systems may soon be the only option for your company's telephone needs, as landline providers are rapidly becoming obsolete. Moreover, voice-over-Internet protocol (VoIP) phone systems could be the most flexible answer to the rising trend of remote work.
Fortunately, there is a wide variety of VoIP home and business telephone systems to select from, each offering a plethora of digital capabilities at a more reasonable price. However, don't undervalue your options; research various VoIP providers before making a final decision for your small business. 
---
Author bio:
Trevor is a SaaS growth consultant and managing partner of Ring4. He leads product development and drives innovation for building the best lightweight business phone solution in the cloud.
Top 10 VoIP Solutions For Small Businesses To Ace Their Communication